Christine Morden and James Roy have photographed hundreds of Turks and Caicos weddings over the past decade. But this March they found themselves on the other side of the camera when the two co-owners of Paradise Photography tied the knot during an intimate ceremony on Grand Turk.
The creative couple's shared passion for photography literally brought them together. They met at a professional workshop, and their partnership eventually led to love – and a full-service photography business on Providenciales. They both consider weddings a special artistic challenge, because the goal isn't merely to document, but to capture photos that reveal the unique relationship between two people on an emotional day.
"I still get little butterflies before each one," Christine said.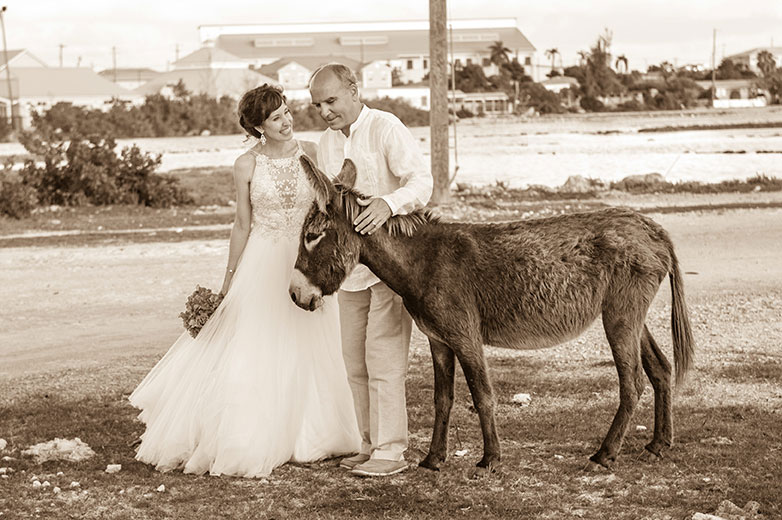 The two wanted a destination wedding, and when Christine's aunt announced she would be on Grand Turk during a cruise stopover, they realized her visit would be the perfect place and time. The pair are regular travelers to the island, and James, an avid Grand Turk surfer, called it a place of "special significance for us."
With Christine's aunt due for an 8 a.m. port call, the couple opted for a morning wedding at a familiar island church, followed by lunch. And when it came to photographing the event, they knew exactly who they wanted: Their fellow Paradise shooters, Renise Peters and Rachel Mares.
The day was enlightening for Christine and James, serving as a first-hand reminder of their clients' experience. The two professionals have given tips to thousands of brides over the years, but in the midst of the excitement, Christine realized her own need for gentle reminders and directions.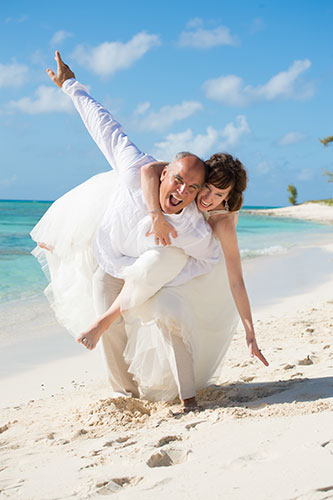 That meant relinquishing control and trusting the professionals she'd hired. The result was a fantastic record of the event, plus a renewed appreciation for the intimate relationship between a bride and her photographer.
"As the bride in the moment, if you hired an artist, you have to let them take over," Christine said. "Because I would have missed a lot of shots I couldn't see.
"It does go by so fast, like everybody says. They are capturing some of your most precious moments and you really rely on them."
The two are back behind the camera now, but James noted that ever since their own wedding, listening to the officiants speak at their clients' nuptials has become a sweet personal refresher on the enduring power and beauty of marriage.
Watching the most romantic moments of people's lives is a perk of the job, James said. "We are fortunate to have a constant reminder. It's a blessing."
Images: Paradise Photography/myparadisephoto.com