When Joe Zahm arrived as the manager of one of Providenciales' first condo resorts in 1989, Pan Am flew regular routes in and out of the island, New Kids on the Block was on the radio, and Batman starring Michael Keaton and Jack Nicholson was the box office hit of the summer.
These were heady times for Turks and Caicos. Grace Bay was on the cusp of becoming Provo's tourism hub. A string of pioneering resorts – Ocean Club, Royal West Indies, Grace Bay Club, The Sands and others – were proving the luxury condo-hotel model. By 2007, condo sales prices were soaring well above the $1m US dollar mark.
In 2014, a new trend emerged: Not only were premium developments popping up beyond Provo's Grace Bay epicenter, they were eschewing traditional hotels for luxury villas. Once again, buyers embraced the concept, and multi-villa projects have driven a significant segment of the local real estate market ever since.
And now, as Zahm passes the 30-year anniversary as a trendsetter in TCI's tourism and real estate sectors, a new concept in real estate development is coming ashore on the island he calls home.
Neighborhood-based development – with distinct personalities, diverse price points, and appeal to a broader vacation-rental market – has arrived. Its potential has Zahm feeling as enthusiastic as ever.
"We are excited about the new product mix, which is penetrating new locations with broader product to provide alternatives to Grace Bay beach," Zahm said.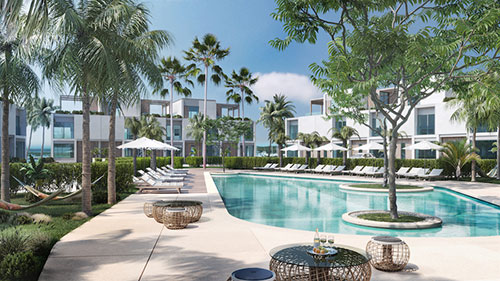 Windward Development made the first splash of 2019 in January with the launch of South Bank, its latest project. The multi-neighborhood development in Long Bay features unique home styles ranging from $795,000 to $8 million, and buyers jumped at the project's initial ocean and lagoon villas offering. With homes starting at less than $2 million – some of which include boat docks – the concept offers a good fit for home buyers with a preference for the boating life.
This summer Windward Development hit the market with another new neighborhood they aptly named The Launch. Combining contemporary architecture designed by Blee Halligan with Windward's signature waterfront living concepts, its one-to-three bedroom Boathouses – located on a marina waterfront with private boat docks – are targeting a new market segment.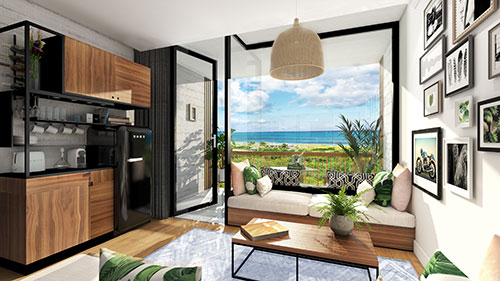 The Bight Hotel, announced earlier this year, is also infusing the real estate investment market with a new product segment. Located on an elevated perch in the Bight neighborhood, the 66-unit project is founded on a highly adaptable King Suite studio concept.
The Bight Hotel's "relaxed plus chic" vibe delivers an appealing modern aesthetic at an entry cost below $400,000. That's an attractive alternative price point, Zahm said. "The emphasis is on ease of use, rentability, and optimal sleeping capacity. There is currently nothing on market like it. Plus, it's just cool!"
Views, proximity to the beach, bespoke service plus amenities for owners and guests of a boutique property define the latest concept from the Beach Enclave team. The Club at Beach Enclave Long Bay premiered last fall, with all but one beach house already sold and only five remaining Club Residences. This limited offering includes one to three bedroom units where guests can enjoy sweeping views of Long Bay beach from their own private terrace, or from the island's first rooftop spa.

Even in the residential hotel space innovative new product offerings are reaching new heights. Take the Andaz Hyatt on Grace Bay, which in addition to one to four bedroom residences is offering a limited collection of three unique penthouse studios. Located on the seventh floor atop the Andaz tower, each unit features an individual rooftop, outdoor great room and plunge pool.
Thirty years after Zahm arrived, superheroes are back to breaking box office records, but the new kids on the block when it comes to TCI real estate are these buzz-worthy, innovative products. In a market famed for reinventing itself, this latest wave of development promises savvy buyers more options and variety than ever before.