Each month, thousands of people from across the globe visit Turks and Caicos to enjoy the islands' stunning natural beauty. Most take home snapshots – but a few choose to leave a lasting impression on the local community, too.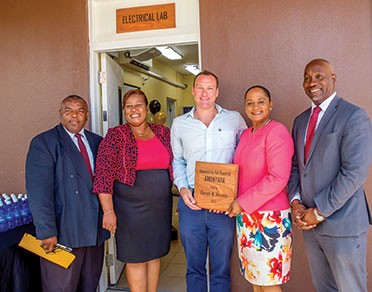 That's why pomp and circumstance were the order of the day on May 15th at Clement Howell High School (CHHS) in Providenciales' Blue Hills community. The occasion: Celebrating the CHHS Industrial Arts Department's second successful collaboration with Amanyara Resort and its generous guests.
In November 2017, Amanyara's management and visitors upgraded the school's woodworking lab and adjoining classrooms. This time the recipient was the department's Electrical and Electronic Technology program. The school's shiny new Electricity Lab, which had previously improvised instruction around obsolete materials, is now re-equipped with the modern tools required for a 21st century career in the electrical trades.
CHHS is currently the only TCI school that offers a Caribbean Secondary Education Certificate course in Electrical and Electronic Technology. Thanks to the donation, the program took an immediate stride toward Caribbean Vocational Qualification status, an accreditation that would boost its students' chances of landing good jobs.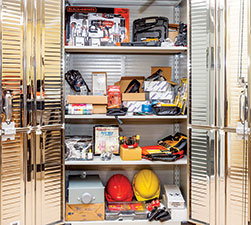 "For a long time the lab was handicapped, " said CHHS Principal Kadean Cunningham, who spoke at the ribbon-cutting for the Garrett Donovan Electricity Lab, which the school named in honor of Amanyara's resort manager.
Donovan is the third Amanyara manager to participate in the partnership, which began in 2016 when CHHS faculty members approached former Amanyara GM Marco Franck about the value of a better-prepared vocational workforce. Not only did Franck steer the resort staff toward a long-term commitment to the school, he also began a tradition of engaging the resort's guests in the project.
Earlier this year, Amanyara and its guests purchased classroom upgrades, playground equipment, picnic tables and sunshades for CHHS' next door neighbor, Osetta Jolly Primary School.
"Together, these two commitments are ensuring a full program of infrastructure and facilities are provided to the youth of Blue Hills and Wheeland, and helping develop a positive future for Turks & Caicos," said Donovan, who also announced a new CHHS vocational internship program at the resort.
Images: Putu Aryanto/Caya Hico Media