"Would you look at this," Stephen Ames says in quiet wonderment as he scans the seascape.
He's standing on the white, curving beach at Mudjin Harbor on Middle Caicos. Behind him, a towering limestone cliff overhang. Before him, the narrow stretch of vibrant turquoise water that separates the island from Dragon Cay, a stoic limestone bar that defends the little harbor from the Atlantic. Waves lap across its stone surface.
There's a stoic quality to the man surveying the scene, too: Tall, tan, and athletic, with quietly perceptive eyes. But then he bursts into a hearty laugh, and another side of Ames' personality reveals itself: This isn't someone merely confronting life, but a man blazing his path – and loving every minute of it.
Ames and his wife Kelly made their first visit to North and Middle Caicos in the spring of 2019, about one year after their first Providenciales vacation. They loved Provo so much they returned last summer, bought a house soon after, and settled down for good.
When they're not jetting off for international tournaments on the PGA TOUR Champions circuit, that is.
But, his isn't a story of a rocket ride to success. Among his peers, Ames stands out. Not only is he a Caribbean native – born in 1964 in San Fernando, Trinidad and Tobago – he's a kid who left the islands to take on the world – and returned victorious.
He is also a man enjoying the latest chapter of his life. When his first marriage ended in 2013, Ames took some time away from golf on the PGA TOUR to focus on being a father to his two sons, Justin and Ryan, who relocated with him from Calgary to Vancouver. In 2014, after 18 seasons on the PGA TOUR and several wins under his belt, Ames turned 50 and became eligible to play on the PGA TOUR Champions where some of the world's top golfers such as Fred Couples, Bernhard Langer, Colin Montgomerie and Retief Goosen continue to have successful professional golf careers. In 2015, he met his wife Kelly – herself an avid golfer – and they were married in January of 2018. Ames breakout year on the PGA TOUR Champions came in 2017, when he won the Mitsubishi Electric Classic. He has gone on to amass a total of 24 Top 10 finishes since 2014.
It's a sweet payoff for a kid raised in a state-owned oil company compound on Trinidad. Ames didn't have any professional trainers or golfers whose ankles he could bite at as an island boy. Carrying his father's bag around the staff club at the age of 12 was his first exposure to the game. However, the experience changed the path of his life. "From there I was hooked."
While he has fond memories of occasionally playing with his grandmother, who was a two-time Trinidad champion, his skills came the old-fashioned way. He earned a reputation as a relentless learner, often playing 108 holes in a day.
In his competitive debut at 16 in Barbados, he set the course record. But even his parents doubted his ability to make the leap from the Caribbean to the top professional ranks.
Instead of a leap, Ames reached the top one step at a time. A golf scholarship in Florida. Four years competing at the developmental level, followed by five years on the European Tour, his first marriage, and dual-citizenship in Canada. It took Ames a decade to scrap his way onto the 1998 PGA TOUR.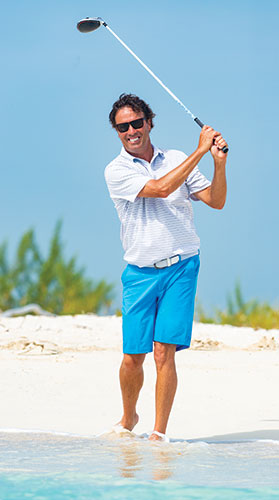 He celebrated his first million-dollar season in 2002 and broke into the top echelon in 2004, winning his first PGA tournament en route to a Top 20 world ranking. In 2006, Ames won The Players Championship in dramatic style, becoming the second-oldest winner in the prestigious tournament's history.
He would go on to win two more PGA tournaments in a late-blooming career that led him to the Canadian Golf Hall of Fame.
Growing up in Trinidad & Tobago, I never could have imagined my boyhood dream would lead me to standing here before you today," he said in his 2014 induction speech. "It's been a long journey, a lot of hours, a lot of miles, a lot of back pains, a lot of learning and a lot of fun."
The prestige of his Hall of Fame honored journey from Trinidad, to Canada and beyond betrays the easiness of his personality and humility with which he plays the game. Perhaps that's why the Turks and Caicos is the perfect fit for the golfer. It's here, after challenges and triumphs, impossible odds and brutal cold, that the golfer can step onto the greens of the local course and truly feel at home.
With his future spread before him like a blank page, and his two sons grown and out of the nest, Stephen and Kelly decided to leave Canada's winters behind and settle into a new chapter of life on Provo.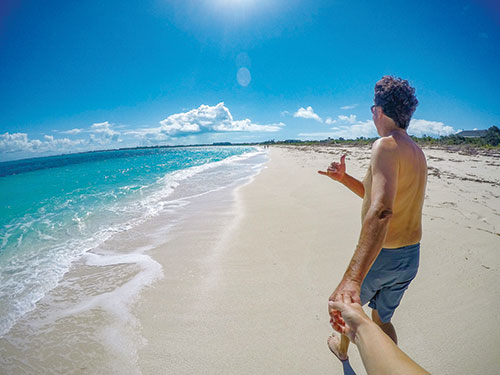 Direct flights out of Provo's international airport makes Turks and Caicos a great location for a competitor with 28 tournament dates on his 2019 schedule, and life here helps keep his game sharp.
"Even a week at home feels like two because you're so relaxed." He hopes to play on the PGA TOUR Champions for another decade.
But moving here was about more than the tour, or flight schedules, or regular rounds at the Provo Golf Club. For Stephen and Kelly, Turks and Caicos is about a new phase, new friends and a new home.
"I truly love Turks and Caicos and the people and how they embrace the beauty of this island," he said. "I love being able to wake up, see the ocean, have a salt bath and take a nap under the palm tree."
After an exciting day of hiking, swimming and taking in the sights on the neighboring islands, they climb aboard the ferry for the return trip to Provo.
As a fresh breeze washes over their faces through an open window, Kelly rests her head on Stephen's shoulder. It's the gentle gesture of two people who not only appreciate each other, but the comfort of finding their place in the world.
As Ames says, "there's nothing better than coming home to Turks."
Top, Stephen & Kelly Ames and golf images: Dominique Rolle/Caya Hico Media