When the hospitality heavy-hitters at Grace Bay Resorts took charge of the Point Grace resort in the spring of 2018, Providenciales foodies seemed particularly interested in one question: What would become of Grace's Cottage?
Point Grace's charming restaurant, set within a lush Caribbean garden, is an island favorite. That meant rumors of coming changes raised both hopes and worries. Would the new team get it right?
The new management set out to update the restaurant's traditions while preserving what made it beloved in the first place. A year later, the verdict is in: The design updates are stylish and tasteful, the food and drink are top-drawer and customers are raving.
"We are very pleased with the reception the changes are receiving from guests," said Christopher Meredith, Grace Bay Resorts' Director of Food and Beverage.
The culinary changes came via enthusiastic Executive Chef Suresh Jagan. The restaurant's new kitchen boss, who stepped into the role in mid-2018, was a known commodity to Meredith's culinary team: Jagan spent the previous five years as Grace Bay Club's Executive Sous Chef.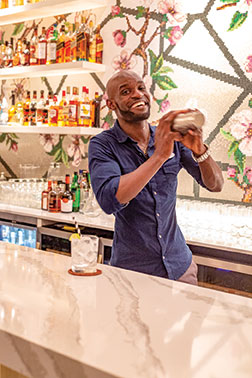 The Grace Bay Resorts team focused the remodel on the bar area, challenging Young Huh Interior Design to modernize the space without compromising its aesthetic. Their solution was an open, airy design featuring a brilliant 25-foot mural. New tables along the bar suggest the casual sophistication of a sidewalk café.
Even if you're dining elsewhere, Grace's Cottage now makes a great start to an evening out. There's a creative collection of cocktails by veteran Provo bartender Wisky Maitre, plus a tapas menu and an impressive rum selection.
Jagan's approach to European cuisine influenced by the islands is big on flavor and light on fuss. Highlights include the vegetable Tartine and the Tomahawk steak for two. Seafood choices vary with the catch, but expect a variety of fresh fish and shellfish, including an oyster plate. The grilled (seasonal) lobster is a delicious homage to TCI foodways.
As in the past, table service is friendly and professional, the staff is welcoming and attentive, and the restaurant's intimate dining atmosphere is memorably captivating. "We want our guests to feel special," Meredith said.
And it shows.
Images: LeMens Welch/Caya Hico Media