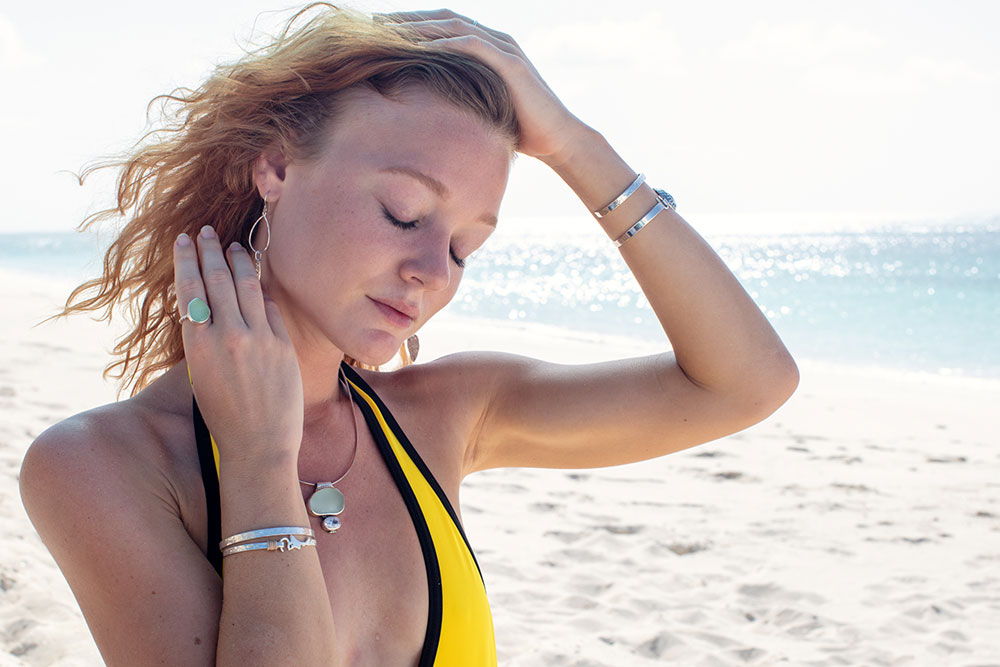 Walk through the door of Atelys, and you may notice the soft cling of a hammer molding metal echoing in the background. This sound could seem immaterial, if it were not coming from the on-site workshop. It's a delightfully audible note of the creativity of Atelys Adrian, who is not only the shop's namesake, but also its inspired creator.
You can find the charming store at the Caicos Cafe Plaza in Grace Bay. For those unfamiliar, this is on the island of Providenciales, which is also the island on which Atelys handcrafts her wares.
Wandering through the shop, Larimar, sea glass and conch draw in the browser's eye. Tropical colors, fun styles and inspirational messages make up the world of Atelys jewelry. It's a delightful domain that offers both variety and an intimate cohesiveness.
Whether a piece from one of her various collections, or a personalized creation ordered by a client, each necklace, earring, pendant and bracelet has one important element in common: they have been designed with affection by Atelys. Each imprint, wave in the sterling silver, or setting cradling a stone, began its journey in her imagination.
The passion that goes into the creation of each piece is self-evident. "To love some of my pieces the way I do," Atelys wrote in an Instagram post about a recent creation, "sometimes it is hard to let them go."
One of her most unique offerings, is made-to-order jewelry. This includes pieces with personalized messages, such as names or significant dates, she hand stamps individually for each client.
"It's incredibly special to me helping my clients express these messages to those they love through the art of jewelry-making," she recently wrote in a heartfelt introduction of herself on her website. "It is an honor and a privilege to create jewelry keepsakes for my clients, and I'm beyond grateful that they continue to choose me and my work."
Atelys' creations can be found at her Grace Bay shop of course, but also online at atelysadrian.com with international shipping available.
Image by Mermaid Pictures. Model: Makayla.
Jewelry: Atelys. Swimsuit: Cheshire by bēchë.