As we head into summer, I think we all feel like it's time to get into shape since soon we will be revealing more skin. Logically, one might think that the warmer climate limits our options for apparel and accessories. Au contraire. I find that the "75º outside" editing process is always more difficult and complex than your average "bundle up for winter" one. Less is always more and in order to look new, modern, and on-trend this season, I'm going to share a few tips for summer dressing '16.
August Wilson once said, "The simpler you say it, the more eloquent it is," and never were these words truer in fashion than right now. I'm excited to say that dressing this summer is going to be easy, comfortable, and fun. Good news, right? Nothing pinching us in the waist, no pointy, rigid heels, and no skin tightness to throw off our summer body game. And best of all, most of these trendy pieces for summer '16 probably already exist in your wardrobe. As they say, "everything old is new again" and that is certainly the rule this season with strong ties to '90s, '80s and '70s dressing – with a lot of styling, of course.
I think this season's overriding fashion macro-trend draws from the '90's. Yes, that decade of grunge glam­our. Remember Courtney Love with her messy hair adorned with a tiara, wearing a romantic slip dress, and chunky lug boots? Well, she is back but in a much more refined, stylized and high designed way. Hollywood it-girl, Alicia Vikander, and her Manus EX Machina-Met- Gala look is a perfect example of this evolution. She's got the grunge, but with a more refined, pretty, modern, and put-together finish.
So, if you're packing for a holiday away at the beach this season, some key items to include might be: a flowy slip dress, a romantic ruffled off-the-shoulder top, a retro hi-design denim mini skirt, vintage graphic logo t-shirts, low slung pajama-esque pants, an embroidered or boho-chic prairie dress, an athletic inspired bikini and, if you're me, a tiara from Saint Laurent!
In footwear, the current casual trend is accompanied by a sea change as to what is appropriate to wear with what. Picture the lug boots Courtney Love wore in the '90's paired with a sheer baby doll dress. In this instance, comfort footwear combined with feminine and ro­mantic clothing strikes a new, perfect balance. As do chunky platforms adorned with bold stripes and pops of metallic, conjuring up a '70's vibe when worn with a sleek, more refined dress. The designer sneaker trend continues to go strong, but with broader wearability and higher design. To be sure, sneakers are popping up on global runways (like Louis Vuitton) paired with pretty dresses and, of course, the newest incarnation of the classic denim mini. The key to this trend? The sneakers need to be of the designer ilk and uber modern. Not in the mood for sneakers, put on a pair of those comfort sandals with the big rubber bottoms. Now called "flat­forms," these sandals are not just for the beach – they are de rigueur for cocktail hour.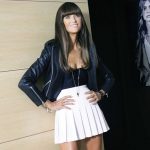 Ruthie Davis, NYC resident, designer and president of her eponymous label, creates shoes modern women covet. Find her at ruthiedavis.com and follow Ruthie_Davis on Instagram.
(Top photo from left: GUCCI by fashionstock.com/shutterstock.om | MAAJI BY HUMBERTO VIDAL/shutterstock.com | MONCLER GAMME ROUGE by fashionstock.com/Shutterstock.om)