On her holiday to Turks and Caicos this summer, Madison Morgan made more than memories. She made photographs.
That's because the 21-year-old Louisiana native scheduled a styled, professional photo shoot during her visit. For Morgan, a model by trade, it seemed a natural expression of her personality and interests – and the chance to take home something more artistic than snapshots.
"I love to travel and I love the beach," she said. "Documenting my travels is one of my favorite hobbies. For me, one of the most profound qualities I like in modeling is the art of how you can use your body to create something beautiful."
We live in a media-saturated era. Thanks to digital photography and quality smartphone cameras, more people are taking more photos of more subjects than ever before. The results are occasionally quite good, which only makes capturing truly great images – photos that rise above the ambient visual clutter of modern life – more challenging than ever.
That's where stylist Shenique Higgs and photographer Ileana Ravasio stepped in.
Higgs runs ShequeStyle, a boutique firm specializing in vacation styling, fashion and photography. Her memorable tagline: Shop, style, shoot. "It is a fashion-forward, fun way of having your images taken for you, versus turning your camera on yourself," Higgs said.
Morgan's plan for the ultimate TCI vacation album began by reaching out to ShequeStyle for fashion and beauty help. Then she went looking for a professional photographer. Her selection: Ileana Ravasio of Attimi Photography. A native Italian, Ravasio has a lifelong appreciation for fashion, and an artist's eye for color, form and composition.
"It was so much fun to shoot Madison," Ravasio said. "Creating unique images showcasing both Madison – who is stunning – and the islands together was a real treat." For the photoshoot, Ravasio suggested locations, backdrops and intangible elements. Higgs selected the outfits, look and style for each setup.
Then, the day before the shoot, Higgs met Madison at her hotel to review her outfits. It's part of the ShequeStyle approach. Higgs often arranges calls with inbound clients just to discuss what they have in their closets – and then applies what they own to the image they want to create when they arrive. "I consult on what to bring to make the images look like what they want them to look like."
Completing that desired look often means filling in some gaps. Higgs also provides a shopping service, and Sheque Style maintains an up-to-date "style vault" with sizes from 2 and up, plus an array of accessories.
Morgan's big day started with hair and makeup. Then Higgs packed up everything and the team headed out to Blue Hills, one of the island's oldest settlements.
The full shoot involved multiple locations and wardrobe changes, each showcasing something unique about the island. Higgs stayed with Ravasio and Morgan for all of it, sweating the details, but also touching up the model's hair and makeup. "I was there with her from beginning to end."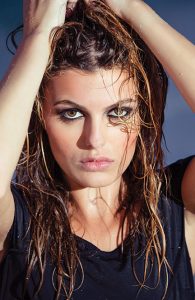 Morgan was impressed. "Shenique reached every expectation I had when it came to hair, makeup and wardrobe. From jewelry, shoes, to the littlest detail, she was spot-on.
"Being able to shoot there (in Blue Hills), I felt so special. It put a chill over me in that moment, doing what I love in a town that's so important. And to see the history while riding from location A to B to C, it was all a blessing to me," Morgan said.
They later moved on to the Gansevoort T+C resort, and ended the day on Grace Bay beach. As the sun set lusciously over a luminous sea, Ravasio captured jaw-dropping images of Morgan at one of Provo's most iconic locations.
"It was dark, but I just could not stop taking pictures," she said. "(Morgan) is a photographer's dream."
The resulting photos have had a profound impact on Morgan and her impression of the Turks & Caicos. She came away with fun snaps to post on social media, but also enjoys fabulous memories of the entire experience. "Ileana's photography is outstanding," Morgan said. "I was blown away. The art she created was magnificent, and I couldn't have been happier with the final edited photos.
"What could get any better?"
Images: Ileana Ravasio/Attimi Photography