Before this spring, they were just two unknown local teenagers. But after a chance encounter in mid-April, Turks and Caicos sea turtles – Wayne and Gerald – are off to see the world as scientific celebrities, with fans around the world watching their every move.
The two "sub-adult" green turtles were picked up on the Caicos Banks during an April 12th Turks and Caicos Islands Turtle Project tagging expedition. Each received a state-of-the-art Wildlife Computers SPLASH-10 satellite transmitter (Wayne's was sponsored by Amanyara Resort, Gerald's by Princess Yachts), and returned to the wild the following day.
The data provided by their transmitters helps scientists build a more detailed picture of a mysterious phase in the turtles' life cycle. "Little is known about the habits and movements of sub-adult, or teenage, turtles," said Dr. Peter Richardson of the Marine Conservation Society. "Unlike nesting adult female turtles, these teenagers spend all their time at sea and so are less accessible and much harder to study. It's important (research) in the turtle world."
Nineteen turtles have been tracked so far, traveling as far west as Colombia and as far north as North Carolina. The Department of Environmental and Coastal Resources and Amanyara are actively engaged in the project, which attracts international collaboration from the MCS, Seaturtle.org, and the University of Exeter because Turks and Caicos offers scientists uniquely favorable access to these transient creatures.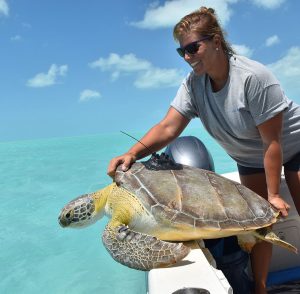 "Amanyara has been a partner in the Turks and Caicos Turtle Project since 2011," said Amanyara Naturalist Jaclyn Walker, who learned how to install satellite tags alongside DECR Environmental Officer Katharine Hart last year during training provided by Richardson.
"The Amanyara Turtle Initiative offers guests a special opportunity to be involved in cutting-edge wildlife research right on their doorstep. The data that we are collecting is giving us great insight into the behavior of wild sea turtle populations."
Click here to follow the turtles' progress online via the Marine Conservation Society.
Images: Jaclyn Walker Photography