Recently, Quebec native Moira Dedrick found herself noticing new things in the Caribbean sunsets she views from her home on South Caicos. So she started painting them, one after another after another.
A collection of those small canvases now hangs in her kitchen. "As I began to pull (the paintings) together, I started to see the variety," she said. "That's so amazing, in and of itself."
Painting, after all, begins with seeing things in artistic clarity. Not "a sunset," but "this sunset."
That Dedrick's quicksilver life ever led her to such a place is practically an artistic act in itself. As a student at the University of Toronto, Dedrick initially rejected a fine arts major in favor of studying archaeology. But as the years passed, her heart gravitated back toward painting.
In 1997, she took the plunge.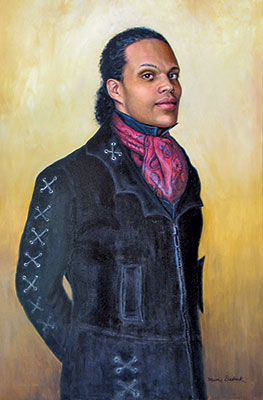 Looking back on those early days, Dedrick – now an acclaimed portrait painter in both the United States and Canada – recalls not just learning to paint, but learning to see. She began by giving herself permission to sit and stare at a landscape for hours. "I don't think I ever saw anything
before I started painting and drawing."
Her portrait career was almost accidental. Dedrick considered herself exclusively a landscape painter, but she admired Greg Hindle, who taught at the Ontario College of Art and Design. When she got the opportunity to take one of his classes, Dedrick discovered a knack for likenesses – and a growing market for her work. After studying with Hindle, she realized she needed to build her painting technique. Dedrick applied and was accepted into the first of several courses at Studio Escalier, a prestigious French program that teaches classical painting and drawing techniques.
With an expanding reputation as an in-demand portrait painter in Canada's largest and most cosmopolitan city, Dedrick's career trajectory seemed set. But her life, and her art, was about to take a hard turn.
In 2008, Moira and her husband, award-winning film-score composer Chris Dedrick, visited South Caicos, and something about the place enchanted them. The Toronto-based couple began making plans to build a vacation home on the island with Dedrick's sister and brother-in-law, Laura and Brad Dempsey, but Chris was soon diagnosed with cancer and died in 2010.
At first Moira lost interest in their island dream, but "sometime after he passed, I decided I wanted to come back and build a home here," she said. She asked Laura and Brad if they would be interested in going ahead with just her, and when they replied, "Absolutely we would!" things moved forward. In 2013, they became proud owners of the first completed Sailrock Villa.
Upon moving in, Dedrick looked around at the isolated, windswept, sparsely populated island and started seeing its unusual beauty. "I felt the uniqueness of South Caicos," she recalled. "The donkeys, the rough terrain, the cliffs. There is something about seeing a unique landscape. You have this… almost like an ache. You have to paint it."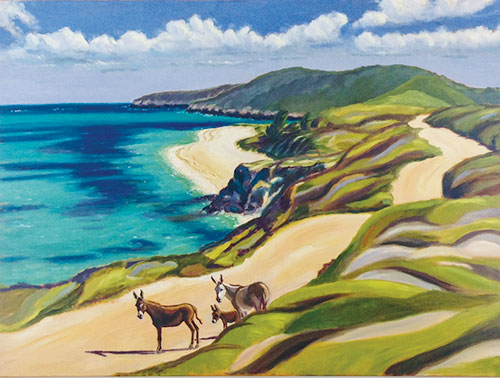 And so she did. Day after day after day, exploring South Caicos by eye.
Her first years on the island were filled with visits from North American friends, many of whom joined in her en plein air expeditions. She was also captivated by the people who warmly embraced her into their community. Over time, the island worked its way into her paintbox, inspiring an instantly recognizable shift in form and style: Whimsical yet precise, representational yet evocative, bright yet moody.
"It evolved here organically," she said. "And the paintings have adjusted to fit."
Dedrick continues to receive work as a portrait artist, but her emerging landscape style is attracting notice all on its own. Paradise Arts on Providenciales recently staged a show of her South Caicos work, and North American collectors have begun commissioning her South Caicos-inspired paintings.
A new love has also entered her life, Peter Bouffard, a Canadian university professor who teaches creativity and leadership and who shares her enthusiasm for the island.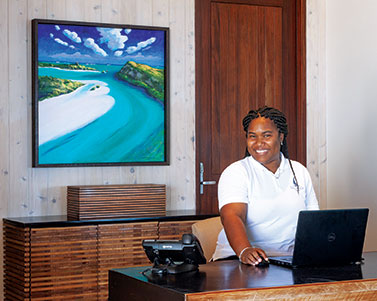 "I'm grateful every day I am here and I get to experience this," she said, gazing across her favorite landscape. "For me there is a sense of beauty, ease and color here. I just respond to it."
To see more of Moira Dedrick's work, visit her website: moiradedrick.com