relaxing family vacation or elaborate lifestyle photo shoot? When the absurdly attractive family in question is led by ridiculously good looking actor Gilles Marini, the results can be hard to distinguish.
He's probably best known for his breakout 2008 turn as "the naked guy" in the Sex and the City movie. Devotees of the franchise are still swooning over his big-screen role as Samantha's neighbor, Dante, which featured his immortalization in what fans call "the second-greatest shower scene in history."
But that's the Hollywood fantasy Marini. The real Marini was fully immersed in his longest running role – devoted family man – during his March 23-28 visit to Beaches Turks & Caicos Resorts, Villages & Spa. Accompanied from Southern California by his gorgeous wife Carole, teenage son George and grade-school daughter Juliana, the Marinis soaked up the whole Beaches family vacation experience.
They played on the shore. They floated around the Pirate's Island Waterpark. They hit the spa.
"One of the most unforgettable vacations we ever had, the people, the beauty of the resort, the family oriented animations, rides and the amazing water park. We had a blast and cannot wait to be back. I would live there in a blink of an eye if I could," says Marini of the family holiday.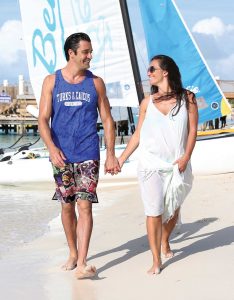 Along the way, Marini's smart phone recorded their Beaches TCI experience for his devoted legion of Instagram followers, snapping shots of his children on Grace Bay and his wife emerging from the pool. Not a bad life for a French-born son of an Italian baker and a Greek mother. Returning to the States was bittersweet, as his final social media post from the vacation recorded:
"Everything (has) a beginning and unfortunately an end. It's with a heavy heart that we are leaving today the beautiful island of #turksandcaicos. My kids (George and Juliana) had a (truly) unbelievable blast here. The best resort for the family in the world period. My wife (Carole Marini) enjoyed the pristine beaches and excellent food, amazing room and a staff to die for. A big thanks to the crew of this sublime resort. A special one to Opal our butler. She made my daughter so happy that I can't ever repay her for the enjoyment Juliana had. I highly recommend this place. #BeachesTurksandCaicos ROCKS. Try it …"
Back at home, Marini continued several DIY home projects, including the completion of what might be the most elaborate tree house a father ever built for a daughter. But as he told a Chicago based news site, Turks & Caicos isn't far from his thoughts.
"Besides the fact that I wouldn't mind living there, it was absolutely amazing," Marini said. "The people at the resort were very, very nice. We had a blast."