Now in its ninth iteration, the Caribbean Food and Wine Festival (Oct. 31st through Nov. 3rd) has risen from local favorite to regional celebrity, a gourmet celebration of world-class dining at a popular international destination.
So for those of you who have not purchased your tickets yet, here is our advice: Book your tickets right now, today, if you're planning on attending any of this year's events. Two of this year's happenings have already sold out, and availability for the remaining events is limited and shrinking fast.
Tickets for both the Women of Wine luncheon at Solana on Friday, Nov. 1 and Sunday's Brunch at Parrot Cay on Nov. 3rd are already all gone.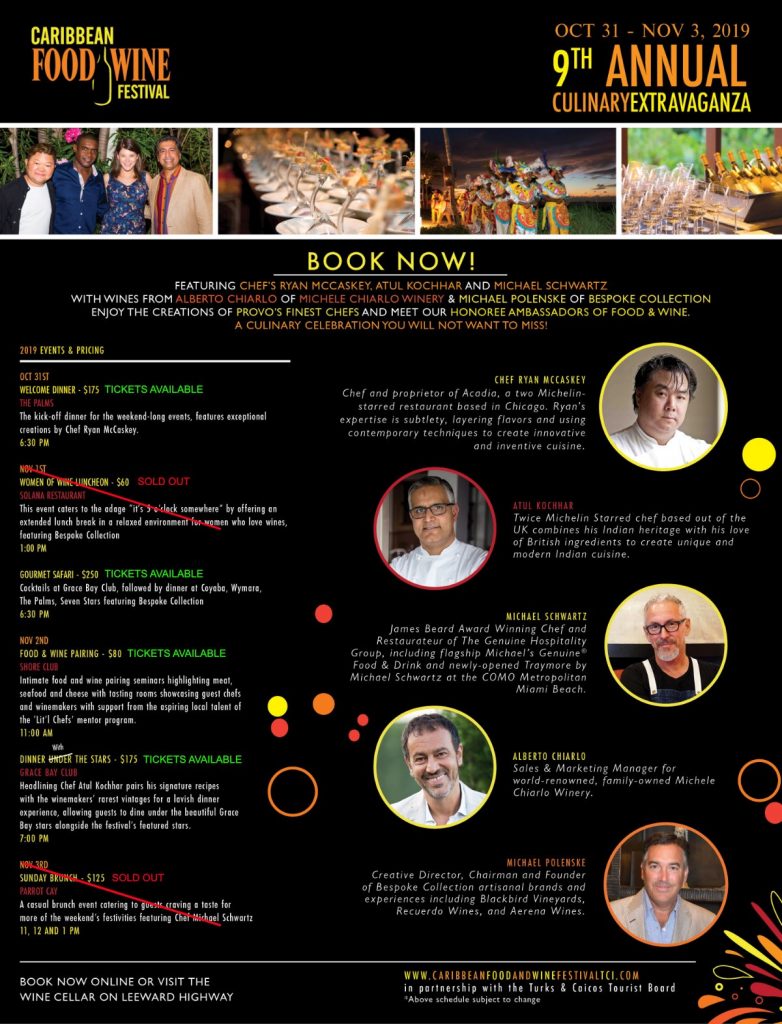 The good news is that four of this year's six CFWF events are still available:
On Thursday, Oct. 31, there's the annual Welcoming Dinner at The Palms ($175) at 6:30, where Chef Ryan McCaskey takes center stage. He's the chef and proprietor of Acadia, a two-starred Michelin restaurant in Chicago. Think "innovative," "inventive," and "layered."
On Friday, Nov. 1, you can still jump on the popular Gourmet Safari ($250) at 6:30. Think neighborhood progressive dinner, except in this case the neighborhood is Grace Bay Club (for cocktails), and Coyaba, Wymara, The Palms, and Seven Stars for your meal courses and wine pairings. The wine, by the way, comes via Michael Polenske, the creative director, chairman and founder of Bespoke Collection, described as "artisanal brands and experiences, including Blackbird Vineyards, Recuerdo Wines, and Aerena Wines."
Saturday, Nov. 2, has two remaining events on tap.
Start your day with a Food & Wine Pairing ($80) at Shore Club at 11 a.m. You'll enjoy intimate seminars on meat, seafood and cheese, plus tasting rooms featuring guest chefs and winemakers.
Then it's Dinner With the Stars ($175) at the Grace Bay Club at 7 p.m. You'll dine outdoors under the stars alongside the star chefs and wine experts from this year's CFWF. Headlining Chef Atul Kochhar will be in the kitchen pairing "his signature recipes with the winemakers' rarest vintages for a lavish dinner experience."
Click here to book your choice online. Or visit the Wine Cellar on Leeward Highway.