Pastor Gold remembers sitting on the bow of a Caicos sloop as a young boy in the late 1950s sailing towards Providenciales. The masts of ships and sailboats on the horizon were as plentiful then as modern power lines today; the reliance upon those vessels for survival, absolute.
"It was a completely different world," the pastor and boat builder, born Samuel Goldston Williams in the settlement of Bottle Creek, North Caicos in 1953, says.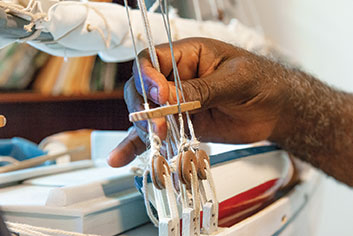 Speaking of the maritime world he came of age in, Pastor Gold's eyes close momentarily as if transporting himself to it. "Boat was our only way of life," he begins resolutely. "To do anything, even just to communicate with different parts of the island you were on, you needed a boat. We survived in those days by getting our conch to Haiti and trading with them, getting supplies from the Bahamas, or goods from the Turks islands – all of that was done by traditional sloops like this same one you see here in my yard."
Gleaming red, white, and blue, Pastor Gold is completing his latest exact replica of the kind of vessel that served local communities for generations. Though skilled at building modern vessels too, he has fixated on traditional sloops and model replicas of historical ships. Ask him why, and his answer will sink into you like an anchor. "The reason why I'm doing what I'm doing, is so that future generations will know from whence we came."
Before power boats and airplanes kneeled a death blow to the entrenchment of sailing and boat building culture in local communities, small boys, like Pastor Gold was in the 1950s, would sit at the feet of the great men of their day, the boat builders.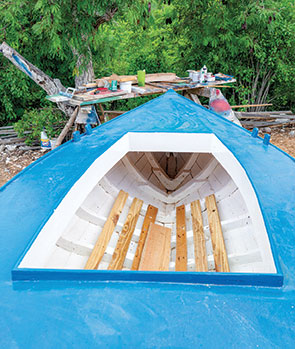 Men like the Bottle Creek brothers Alfred and Henry Smith, particularly Alfred, provided the first apprenticeships in boat building through engaging children's curiosity with small lessons in the livelihood and art form. "Right down the road from where I would tote water from the well, was Alfred Smith who was building two boats in his yard at the same time. I would go and sit down and watch him silently, then he started to engage me," Pastor Gold remembers.
"If a tool was there, he would ask me to pass it to him and if I didn't know what it was he would say, "That you see there is the smoke shave. That goes on the inside of the timber. Now, bring me that chisel. That's how I started to learn." And learn he did.
Everything from cutting the timbers from the locust tree (one of which grows in his yard today) to making planks from driftwood. He learned to make the chain plate and skulling chuck, he learned to put in the lines with perfection, in time becoming a master boat builder like his mentor, the late local legend Albert Higgs, the Godfather of boat building to Pastor Gold.
Now, at 66, the pastor sits in his office strewn with light from stained glass windows at Paradise Baptist Church in Five Cays surrounded by his replicas from that bygone era. Ships like the Daily Gleaner. Men of his generation come from across the islands to see the exact models they've heard existed.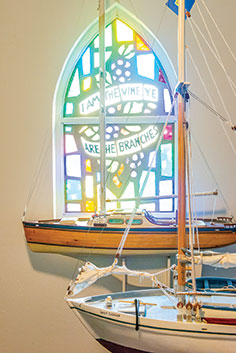 "They cry. It takes them back all the way to who we were," Pastor Gold says of the model that took him five months to recreate in excruciating miniature detail.
"Many times as I was making the Gleaner, the tears just ran down my face", the boat builder says of the widening ocean between his generation and the future ones, disconnected from this rich heritage and history in a modern world. Yet still, a bridge is building over that gap. School children regularly visit Pastor Gold's office. Documentaries, both domestic and international, have archived the traditional boat building process from timber cutting in the bush to paint, and Caicos Heritage House in Grace Bay, a part of the future Turks and Caicos National Museum, is planning a boat building workshop and exhibition.
There is an urgency in Pastor Gold's eyes about what will happen to his boats. "I am doing all this, because I want people to remember."
Story & Images: Dominique Rolle/Caya Hico Media