With six grown children and the prospect of a new generation looming large on their family horizon, Chicago-based Keith and Susan Hoogland wanted the house of their Turks & Caicos dreams to expand and contract between an intimate retreat and a bustling, sprawling clan destination. The resulting villa is a true family collaboration, including input from the kids on the name, which pays homage to the happy little crea­tures that can be found in the waters off the family's new outpost, Hawksbill.
The Hooglands have been visiting Provi­denciales since 1992, not long after the birth of their fourth child. They ran into Provo developer Joe Zahm at a resort bar during that first trip, who told them they should invest in the island. And though they didn't have a dime to spare at the time, investing in the islands certainly stayed on their radar.
After visiting numerous islands across the Caribbean, they bought their first Provo property at Grace Bay Club about a decade later. A second followed shortly thereafter, both pre-construction, demonstrating their commitment to the country.
The family continued to enjoy trips to the islands. All eight are certified divers and you'll even find Keith sailing across the horizon on a kite board most any windy day. "To sum it all up, it was the perfect island for us," explained Susan.
Over time, though, their family situation changed. With their youngest heading off to college, Susan wanted to spend more time on Provo and less time in Chicago.
"I've always wanted to build a house there," Keith said. "We're planning on spend­ing more time down there as we get older, but we also wanted a place where we could go with all of our children and grandchil­dren. So, it was really about the future."
The process started with finding the right location. On the priority list was a residential area, on the beach.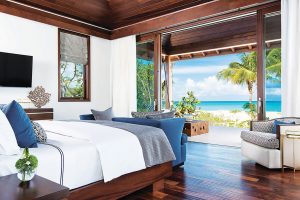 They wanted to be on Grace Bay, but they were also an active family that spent a lot of time on the water. Leeward – with its canals and sheltered boat docks – was the perfect fit, Keith said.
The design process began with Susan pointing out a nearby home she loved. They contacted the architects at Coast, "and we hit it off right away," she said. They'd later hire Norstar to handle the construction.
Rather than simply handing off the design, the Hooglands stayed involved throughout the process.
"We went full circle quite a few times and readdressed things over and over, because it was such a big project, you can't really afford to make any huge mistakes," Susan said. "We really took our time. I did a lot of research on what we wanted, how it was going to flow."
The key is separation, Keith said. "The master bedroom is completely separate, so it's your own home over there. The great thing about it, all of it, is you have privacy. If you have six couples, everyone is private. Every single room is unique."
Treating so many rooms as separate com­ponents in a larger design means it can be used and rented in multiple configurations. "So if just two of us are there it works, and if all 16 of us are there it works," Susan said. They even kept and renovated the original two-bedroom beach house and added an apartment over the garage to make room for the largest crowds.
With management support from The Source, which markets the property and handles bookings, maintenance and staff­ing, the design is also proving to be a mon­eymaker.
"I also think about business opportunities and so I like to rent it and have other people enjoy it," adds Keith.
The home can be rented in multiple configurations starting with five-bed­rooms up to 10-bedrooms including the bungalow. "Everything has worked out far better than we thought. And Foluso (Ladejobi, the co-owner of The Source) is amazing," Susan said.
In the end, the design of Hawksbill de­picts the desire of the Hoogland family to enjoy time together, the size and commit­ment a reflection of the deep connection they feel for the island. "We feel very lucky to have found a community and an island that we really like and care for," said Susan. "It's home."
PHOTOGRAPHS: STEVE PASSMORE/PROVOPICTURES.COM