For Neil Collins, executive winemaker and vineyard manager for Tablas Creek Vineyards, the key to a good wine is a great grape. But as he revealed during the 2017 Caribbean Food and Wine Festival on Providenciales, there's much more that goes into a great wine – and that's where his experience from the vine to the table steps to the fore.
Collins, an Englishman from Bristol, began his career as a culinary-school-trained chef. While working in a California kitchen not far from the state's award-winning wine country, his curiosity led him deeper into wine's earthy mysteries and practical magic. A year with California's Wild Horse Vineyards led to a five-year stint with Adelaida Vineyards & Winery in Paso Robles. France seemed a logical next step, and in 1997 he moved to the Rhône Valley for a year's work in the Château de Beaucastel vineyard.
The experience made him the perfect candidate for his future position at Tablas Creek, which had been established in the Adelaida District west of Paso Robles in 1989 by the Hass family, owners of Vineyard Brands, and descendants of the Perrin family from Château de Beaucastel. They chose the 120-acre parcel for its specific similarities to the conditions found in the Rhône Valley: A Mediterranean climate featuring wet winters, dry summers, warm days and cool nights – plus distinctive high-pH soil.
His years of hands-on experience – both in the vineyards and in the cellars – gave the Englishman insights into the natural inputs that make France and California both similar and unique as wine regions. His Tablas Creek wines – each fermented with native yeasts – reflect those experiences. But it's his skill in making flavors sing together that sets him apart when it comes to blending. A craft he has been perfecting since his early days in the kitchen.
"There are a lot of similarities (between cooking and winemaking)," Collins said during a break at the festival. "It's sensory. It's taste and smell."
Taste begins with grapes. The grapevines at Tablas Creek were transplanted from Château de Beaucastel more than 20 years ago, and since beginning work there in 1998, Collins has devoted himself to improving their health, productivity and flavor. His winemaking begins with passion for the land and its biodiversity, a commitment recognized via two significant benchmarks: Organic certification in 2003 and Biodynamic certification in 2017 of the vineyard.
Those techniques give Tablas Creek's dry-farmed grapes that true terroir prized by Old World vintners. But, blending varietals into the vineyard's flagship wines – Esprit de Tablas and Esprit Blanc de Tablas – engages the full range of Collins' skills. "When you put these things together, they are no longer what they were by themselves," he said. "They change. And I think that is curious."
"There is an interest and complexity that comes from blending that is unique. I think the Rhône varietals, both red and white, always have their French history. Now for us, in California for sure, they lend themselves to food."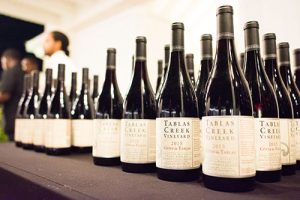 The two wines Collins presented on Provo – the 2014 Esprit de Tablas (a Rhône-style blend of Mourvedre with Grenache, Syrah and Counoise) and Esprit Blanc de Tablas (a Roussanne blend balanced with Grenache Blanc and Picpoul Blanc) – were a perfect fit for the festival. Collins presented at several of the 2017 events, including the final dinner at The Shore Club. Despite worries brought on by the year's two hurricanes, the festival and its finale were as well-attended as any of its predecessors.
And just as Collins proved a hit with festival-goers, the festival was a hit with Collins. "What kind of blew me away was the diversity of people at the event," Collins said, remarking on the mixture of winemakers, chefs, gourmets and more casual attendees that gives the festival its signature West Indies vibe. Such diversity is a theme with Collins, who draws satisfaction and insight from his experiences in the kitchens, cellars and vineyards of his trade.
"My world goes from driving a tractor to eating at great restaurants in Turks and Caicos, plus everything in between in the wine and viticultural world," he said. "That fulfills a lot for me."
Wine bottle image: Paradise Photography