In our cuisine-obsessed, celebrity-driven global culture, there's no doubt that hiring a telegenic chef with the right social media profile can mean instant success for a restaurant in a hyper-competitive market. But ask successful veterans of the fine-dining scene and they'll tell you: Superstar chefs come and go. Sustained creativity requires a committed, talented team.
That's the vision at Grace Bay Club, where a diverse, multi-resort food and beverage team led by Christopher Meredith devotes its creativity toward the common goal of producing delightful new dining experiences for the resort's discerning international guests.
By Providenciales standards, Grace Bay Resorts' culinary portfolio is practically sprawling. In addition to flagship Grace Bay Club, every drinks or dining spot at Point Grace, West Bay Club and The Private Villa Collection reports to Meredith, who became Grace Bay Resorts' Group Director of Food and Beverage in April 2017.
A fast-rising star from the United Kingdom, Meredith earned his first two Michelin stars before being named Upcoming Chef of the Year by Relais and Chateaux in 2007. As Culinary Director at Raffles Seychelles, he led a staff of over 100, before coming to Turks and Caicos.
"We are always pushing to do new things," Meredith said. "Seeing what we can do better."
With its dazzling array of dining options, Grace Bay Club (GBC) illustrates both the challenge and the approach. Most kitchens revolve around processes that replicate the same quality items night after night. Meredith's kitchens make improvement and innovation the goal of creative teams.
Consider GBC Executive Chef Frank Castleton. Despite the demands of managing the resort's three bars and four restaurants, most evenings you'll spot him peeking out from the kitchen, keen eyes moving across the restaurant, his culinary imagination whirling.
Some of Castleton's ideas are solely his, but creativity in isolation is a surefire recipe for burnout. So Castleton does more than imagine. He chats up guests, chefs, bartenders and kitchen staff. When he thinks an idea shows merit, his staff collaborates to develop rough concepts into polished recipes, processes and presentations.
Infiniti Restaurant and Raw Bar and The Grill, the resort's signature restaurants, get the lion's share of gourmet-press praise for new concepts and seasonal menu items. As Infiniti's recently added local strawberry grouper dish proved, the attention is well-deserved.
But the resort's creative approach may be most noticeable at its striking Infiniti Bar, where the GBC kitchen staff innovates like a tight jazz quartet on a midnight set. Not a season passes without the bar's menu wowing guests with remarkable new dishes.
Renowned for its mind-bending appearance, the 90-foot long bar provides plenty of space for socializing. Castleton's team treats Infiniti's unusual setting as a license to push the traditional limits of "bar food." For example: Last season's half-dozen sushi-sampler proved wildly popular, so this year they're back with new sushi plates. This one features thinly sliced yellowfin tuna atop sweet watermelon Khimchi, and it's both unusual and absolutely delicious.
Think bar patrons crave only savory items? Think again. The pastry team goes out of its way to disprove that notion, providing an ever-changing selection of dessert bites for the bar also popular as an after-dinner-drinks destination.
And don't be misled by the most innocent-sounding items, either. The GBC Fried Chicken is a succulent and crispy marvel that will have your eyes rolling involuntarily at the first bite. And the delightfully decadent sauce on the Wagyu 'Haute' dog, which is already plentifully topped with treats, belongs on your "Must Be Experienced" list.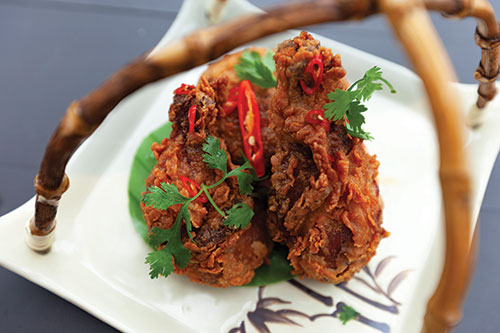 Of course, innovative freedom rests on a foundation of professionalism, and perhaps that's the key to Meredith's approach. You can't imagine something delightfully new when you're constantly fixing the same basic problems. But the culinary team at Grace Bay Club appears to have hit the sweet spot: Delivering everything diners expect, entertaining them with things they never anticipated.
"We want to be the best at what we do," Castleton said. "That is what we get up each day to achieve."