Coco Van – Providenciales' newest foodie sen­sation – breaks away from the island's culinary mainstream by invoking the carefree spirit of the classic Airstream.
Coco Van is Provo's stylish answer to America's food truck craze, an island take on the street-side urban dining trend. Though the streamlined caravan stays parked next to its sister restaurant, Grace Bay hot spot Coco Bistro, the informal concept is instantly recognizable.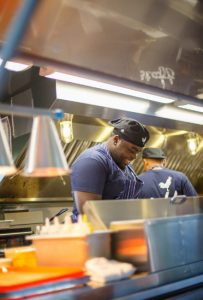 The North American food truck scene covers a spectrum that runs from the traditional hot dog cart to wildly creative – though relatively affordable – cuisine. But the new wave of popular mobile kitchens are often long on quirky charm, too.
And while Providenciales has no shortage of fine dining, it sure looks like Coco Van has found its niche.
Unlike the stereotypical food truck – where a vacant lot, a paved parking spot or some weedy ad hoc location encourages diners to take their food and leave – the shiny Airstream RV kitchen is just the centerpiece of Coco Van. The outdoor seating area is surrounded by flicker­ing Tiki torches. Music plays overhead. There's a brightly colored rooster emblazoned on the wall. Everything about the atmosphere reflects a variation on the "Under the Palms" theme that's synonymous with its sister restaurant. Only here reservations are not required.
The vibe is personal and fun, with a friendly staff and an easy-going air. Six nights a week, customers walk up to the counter, give their orders, then take a seat at shaded wooden picnic tables. It's not fast food, but the wait is never long.
Each day's menu is simple, but the choices are mouthwatering. We're talking street food with a local twist, with savory items like duck tacos and seasonal offerings like fried lobster, followed by churros for dessert.
The first bite testifies to the quality. Call it the perfect blend of Coco Bistro sophistication and free-spirited Airstream exploration.
Diners have responded well to the new con­cept in its first few weeks, and the staff plans to keep playing with the formula. "We will be updating the menu, but you can always expect fun items and simply great food," said General Manager Steve Murray.
Take the Poutine, a potato-based Québécois staple also known as "chips, cheese and gravy." It's cold-weather soul food for Canadians, but an unusual choice for the West Indies. As a member of the staff pours gravy over our crispy fried po­tatoes, a couple arrives on bicycles and watches in fascination. The Poutine is delicious, but that casual, whimsical moment is exactly what the restaurateurs were hoping to create.
images: David Gallardo/Brilliant Studios