The 2018 edition of Providenciales' celebrated Caribbean Food and Wine Festival will feature a Michelin-starred restaurateur and a MasterChef champion, festival co-chair Nikheel Advani announced, and limited tickets are still available.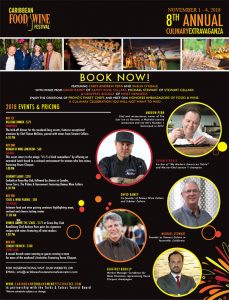 Five visiting guests will headline another strong roster of chefs, winemakers, tastemakers and culinary innovators at the upcoming festival:
Chef and restaurateur Andrew Pern, owner of The Star Inn at Harome, a Michelin-starred restaurant and the UK's Number 1 Gastropub in 2017;
MasterChef Season Seven Champion Shaun O'Neale, author of "My Modern American Table;"
David Ramey, co-founder of Ramey Wine Cellars and Sidebar Cellars;
Michael Stewart, founder at Stewart Cellars in Yountville, California;
Geoffrey Bouilly, Caribbean market manager for Moet Hennessy, representing Veuve Clicquot champagne.
Advani, CEO of Grace Bay Resorts, said the annual celebration of Caribbean cuisines "has created an international stage for chefs and winemakers from around the world to come together for an entirely unique gastronomic experience that supports our local community." At a press conference last week, Advani emanated with enthusiasm for the upcoming events, where attendees have the opportunity to interact with the chefs and winemakers. "You get to have those conversations about the passions you share about food and wine and pairings, so it is quite remarkable."
The popular non-profit festival returns to the Turks and Caicos this week, Nov. 1-4, with proceeds benefiting the The Department of Youth Affairs' Lit'l Chefs menor program. Tickets and information are available online at caribbeanfoodandwinefestivaltci.com.
Schedule of Events (click flyer above to see more details)
Thursday, Nov. 1
Welcome Dinner
The kick-off dinner for the weekend-long events features exceptional creations by Chef Shawn McClain, and will be hosted at the Amanyara Resort.
Friday, Nov. 2
Women of Wine Luncheon
This event, at Solana Restaurant, caters to the adage "it's 5 o'clock somewhere" by offering an extended lunch break in a relaxed environment for women who love wines, featuring Veuve Clicquot.
Gourmet Safari, a progressive gourmet dining experience
This interactive 'dine around' gives festival guests an opportunity to discover the Island's incredible restaurants. Now in its ninth year, the Gourmet Safari was the original event that served as a catalyst for the festival and continues to be a guest favorite today. This year's schedule:
Grace Bay Club – Innovative cocktails
Coyaba – First course
Seven Stars – Fish course
The Palms – Meat course
Gansevoort – Dessert
Saturday, Nov. 3
Food & Wine Pairing
Intimate food and wine pairing seminars highlighting meat, seafood and cheese with tasting rooms showcasing guest chefs and winemakers with support from the aspiring local talent of the 'Lit'l Chefs' mentor program. The event is being hosted at The Palms resort in Grace Bay.
Dinner under the Stars
Headlining Chef Andrew Pern pairs his signature recipes with the winemakers' rarest vintages for a lavish dinner experience, allowing guests to dine under the beautiful Grace Bay stars at the Grace Bay Club, alongside the festival's featured stars.
Sunday, Nov. 4
Sunday Brunch
A casual brunch event at The Shore Club resort on Long Bay,caters to guests craving a taste for more of the weekend's festivities.
CFWF 2017 Image: Grace Bay Resort