First Mate Carlito stands at the stern of Dream Aweigh III, the 46ft luxury catamaran he has made a career entertaining guests on, as it cruises past the white limestone cliffs of Water Cay. His Captain, Kenard Cruickshank, scans the unending turquoise pool known as the Caicos Bank with laser focus from the yacht's wheelhouse in search of the iconic Turks & Caicos mascot, JoJo, a people loving, acrobatic performing, wild bottlenose dolphin.
The relationship between the pair and the dolphin, built through near daily interactions over the course of more than a decade thrilling guests on their luxury charters, reflects an extraordinary normality in the life of the professionals who make their living on the water in these islands.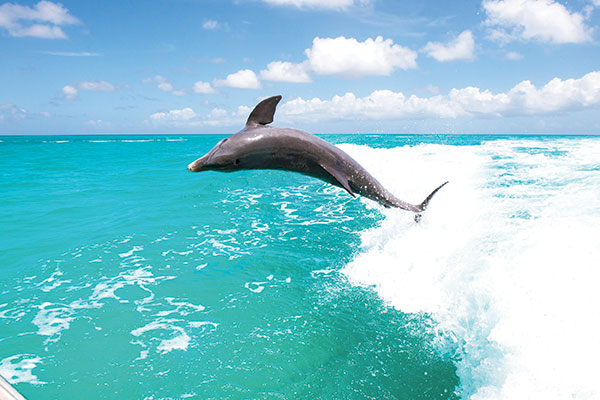 For Captain Kenard, being on the water is less of a job than a lifestyle moored to his eagerness for sharing with his guests the bliss of cruising through some of the most beautiful seas on earth, or diving into them. Born in St. Vincent and the Grenadines, Cruickshank recharts the course that brought him to Turks and Caicos saying, "18 years ago, I was a Master Scuba Instructor looking for a change."
With the chance to relocate to several destinations, these pristine quiet islands just on the cusp of a development boom then, stole the Captain's heart.
"I started diving for an outfit here and quickly realized, 'this is going to be great'! After a while I transitioned to skippering a vessel doing day charters and gradually decided it was time to get my own vessel," Captain Kenard recalls.
Though it may be hard to believe, not long ago on Providenciales the luxury charter business was still a fledgling industry. While most commercial vessels offered family fun, scuba diving, or snorkel trips, Cruickshank determined he would make his mark providing a tailored luxury boating experience.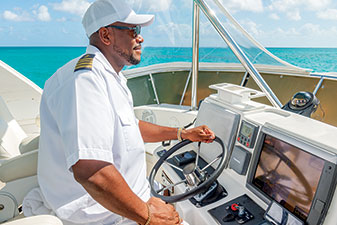 "I knew I had to make it really big to make it different from all the others," the skipper says whilst descending from the yacht's bridge where he has anchored off Half Moon Bay.
"I was so fortunate to run into some friends of mine who I used to teach diving. I talked to them and said I wanted to start this business and together we got the first luxury yacht on the island." That was 13 years ago when Dream Aweigh, their first vessel, sailed from the coast of South Africa where it was custom built, to its dreamy home in Turks and Caicos.
Since then, Captain Kenard's fleet of vessels and handpicked team, which includes his brother Captain Brian Cruickshank, has expanded with a view to up the ante on the pampered adventures they offer.
"We have a staff that has been with us from the beginning, expertly trained personally by me as both mariners and luxury hospitality providers," the Captain says before firing up the engines again as Carlito pulls up the anchor whilst dancing to effusive house music.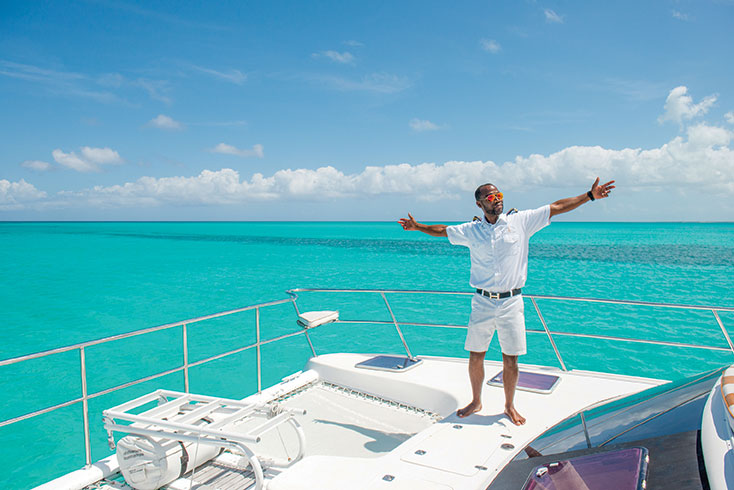 It's those vibrations and their feel-good nature that makes the Kenard Cruises experience more than just luxurious. The crew themselves take immense pleasure in even the smallest of details, from music, to surprising guests with treats like chocolate chip cookies.
Customizing a day of adventure for them starts from the moment guests are welcomed aboard and presented with a drink. Serving platters of fresh fruit before cruising to stunning deserted beaches like Half Moon Bay, an abundance of leisurely activities abound from snorkeling to sand dollar hunting, island hopping or jumping off the boat into the coral rich underwater world below.
"It's a fun full day, whatever your heart desires, right Carlito?" Cruickshank shouts playfully, but Carlito has finally spotted their friend.
"JoJo! Hey buddy! Come on JoJo, jump for us!" he gleefully coaxes the dolphin who more than obliges him, riding the wake before leaping spiritedly and diving with a splash.
Story & Images: Dominique Rolle/Caya Hico Media