Life got a bit brighter recently for the students at Extraordinary Minds Ashley Learning Centre located in downtown Providenciales, thanks to a little help from the captains, crews, staff and management at Blue Haven Marina, an Island Global Yachting (IGY) destination.
In just a few hours on Feb. 25, 18 volunteers berthed at the IGY marina — backed by local sponsors — built a brightly colored playground at the non-profit Providenciales center, which serves children with disabilities. The effort was organized via Inspire Giving through You,  IGY's international philanthropy program. It's now in its second year of serving local projects in the seven countries where the network operates its 15 marinas.
Marina staff joined the volunteer ranks, but what made the day truly special were the yachtsmen docked at Blue Haven Marina who stepped up when invited to participate.
"The captains and crews spend a lot of time at sea, so they have limited time and opportunities like this and they were so happy to do it," said Blue Haven Marina General Manager Adam Foster. Foster picked this year's beneficiary and was excited to work with the school on one of its top wish list items.
With materials provided by the Do It Center, plants donated by Environmental Arts and tools supplied by PTS Equipment Rental, the maritime volunteers constructed an outdoor play and discovery area, installed artificial grass, a sand pit, a perimeter fence with two gates, built a wheelchair-accessible path, and assembled and painted picnic tables. Blue Haven Resort provided lunch for the volunteers.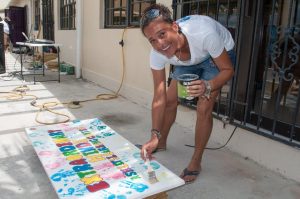 "Individuals who work in the maritime industry are resourceful people," Foster said, explaining why this group excelled at transforming a dusty lot into a colorful outdoor learning space. "At sea they are out there on their own, so they often have to tackle challenges and improvise. They are hard workers and problem solvers. It was exciting to see what we were able to achieve in one day."
The students who stopped by to check on the project added their own touches. Literally. Student hand-prints on the new school sign now welcome everyone on the campus. Their reactions — and the appreciation of staff and parents — appeared to touch the volunteers' hearts.
"It was a really emotional day for everyone," said Blue Haven Marina Operations Manager Portia Mogal.
Volunteers received certificates at the end of the day and enjoyed a local dance troupe performance arranged by the school. "It was wonderful to realize how much gratitude you get from giving back," Mogal said.
In addition to Turks and Caicos, the Inspire Giving through You program provided support to community needs in the United States, Columbia, Mexico, St. Lucia, St. Maarten, and Panama this year. In the program's first year, marina volunteers assisted a local children's home.
Click here to see more photos from the day and the center
Images: Blue Haven Marina