A year ago, when the developers of Beach Enclave announced they would be add­ing a second location to their Turks & Caicos portfolio – this time on Providenciales' Long Bay, its first development on the island's North Shore was deep into construction.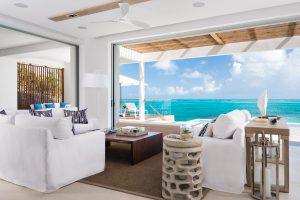 By the time the first shovel struck dirt on Beach Enclave Long Bay, home buyers at Beach Enclave North Shore were already settling into their new villas on International Drive – and a third project was in the works for Grace Bay.
It's been a busy year for Vasco Borges, co-founder and CEO of Beach Enclave, but with the opening of Beach Enclave North Shore in November, years of vision became concrete reality. Creating a collection of private enclaves of homes, customized around a unifying design theme defined by clean, modern lines is one thing. Watching owners and guests begin to embrace the company's approach to personally tailored hospitality is another.
"I think people are really engaging with it," said Borges. "We are getting great feedback so far."
Beach Enclave North Shore debuted in late fall with nine ultra-luxury villas atop a commanding bluff above a pristine and secluded beach. Villa owners are embracing the lifestyle and guests are raving about the services. Now Borges wants his flagship to set the template for his next two communi­ties, while redefining modern hospitality through specialized amenities tailored to the tastes of the most discerning travelers.
"I think what defines Beach Enclave is privacy, a hassle-free vacation, and a be­spoke experience," Borges said. "The staff knows what the guests like so the service is tailor-made."
That experience begins when a Beach Enclave concierge contacts the guest soon after each booking. Advance services can include everything from tips to planning meals to booking excursions.
"When you think about the best vacation you've had, it's usually the one where you went to a place where you had a friend there that could show you where to go, give really great tips and that made it really special," Borges said. "That's what we are trying to do."
The flagship features a resort manager and a staff of 14, all focused on catering to the desires of guests. That could include meal planning, preparing and serving an elegant four-course dinner. It could mean building a bonfire on the beach for a young family that loves nothing more than making S'mores with the kids.
Or it might mean knowing when to do nothing at all.
"Because it's a small team with a great staff-to-guest ratio, we're able to provide those fun details. It becomes so easy when you have day-to-day contact and you don't have to worry about a lot of volume. It's just a very bespoke experience."
Though each resort will share a consistent architectural concept – a clean, modern look customized to suit the owner – Borges says each will have a clear identity.
Beach Enclave Long Bay, a five-villa de­velopment nestled at the end of one of the islands' most kiteboard-friendly beaches, will offer plenty of sporting opportunities. The recently launched Ten-villa Beach Enclave Grace Bay development will put vacationers "on the beach everyone talks about and raves about," Borges said.
Special services provided by local partners – like the staff from Provo's popular Retreat yoga studio, which teaches daily classes at North Shore – will complete the picture.
"We are really happy with this combina­tion of three properties, because they truly complement each other.
"Ultimately, when people wish to come here on vacation, they'll be able to choose from Grace Bay, Long Bay or North Shore," Borges said. "Each will offer a unique experi­ence and character."
images: Steve Passmore/provopictures.com