November's first-anniversary celebration at Beach Enclave North Shore turned out to be a notably smiley event. But then you earn a smile or two when your team proves a new luxury resort concept.
Beach Enclave North Shore, the first project for the Beach Enclave team led by developer Vasco Borges, drew attention from the start. Though a bit off the beaten path, its International Drive location offers a unique elevation on Providenciales' North Shore, delivering stunning views and direct beach access.
The 2014 development plan was high-value and low-density, with just nine private villas served by a dedicated staff of butlers, housekeepers and chefs. The project proved its approach by selling out in less than two years, and has been winning over visitors since opening to five-star reviews in the winter of 2016.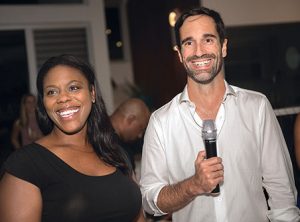 "We are humbled to have received such a wonderful response by our guests," Borges said, crediting the "great team" Beach Enclave assembled at the start of the project and retained throughout the process. He specifically cited designs by SWA Architects and interiors by Domino Creative, plus the hospitality team led by Resort Manager Keyona Coward. The result, he said, is "a product and a brand that guests are being drawn to."
Expect more celebrations soon. In addition to the on-schedule completion of the first three villas at Beach Enclave Long Bay, the company plans to break ground on the highly anticipated, 10-villa Beach Enclave Grace Bay in early 2018.
"Our vision of building a luxury villa brand is coming into focus," said Borges. "We look forward to completing our Long Bay and Grace Bay properties in the near future and to further evolving the Beach Enclave brand."