Most people celebrate Valentine's Day with flowers, chocolates and romantic dinners. On the island of Middle Caicos, people also celebrate on the beach racing model sailboats built by hand—an ode to a local tradition that played an important role in the childhood of many Turks and Caicos Islanders.
This Saturday, February 18, local residents and visitors will celebrate the 17th annual Valentine's Day Cup on Bambarra Beach in Middle Caicos—the largest island in the Turks and Caicos, and yet one of the smallest by population with only about 300 residents. The model sailboat races mark one of the biggest events on Middle Caicos as hundreds of people make their way to Bambarra Beach to watch the races and participate in the festivities.
Daniel O. Forbes an
d Sara Kaufman, of Daniel's Cafe and the Middle Caicos Co-Op, started the Valentine's Day Cup in 2000 as a way to celebrate local culture and keep the island tradition of sailboat building alive. The idea came about when Daniel built Sara a model sailboat for her birthday. From there, the boats began to multiply, and the Valentine's Day Cup was born.
Traditionally, sailboats on Middle Caicos are built with wood from the gum elemi tree. The building process is elaborate, with the same attention to detail one would give to a full-size boat: The hull, rudder, bow, mast and sail are all built by hand.
The Valentine's Day Cup features a series of races throughout the day: The Premiers Cup Challenge, Ladies Cup, Class B Open and Couples Sweetheart Race. Volunteers will be on hand to help kids try the smaller boats. And while builders race their boats on the shallows of Bambarra Be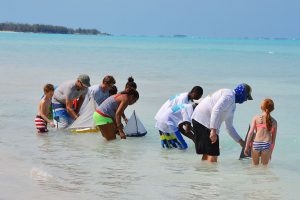 ach, spectators can enjoy live music, local fare from Netta's Kitchen, sweet treats from Raymond Gardiner High School and drinks from the Turks and Caicos Sailing Association.
Local ferry operator Caribbean Cruisin' offers daily ferry service from Providenciales to North Caicos. After the 30-minute ferry ride, you can pick up a rental car to drive to Middle Caicos. While North and Middle Caicos are much quieter than Provo, there is much to see on both islands, including a number of secluded beaches, Cottage Pond, Wade's Green Plantation, Indian Caves, the scenic Mudjin Harbour and more. It's easy to make a weekend trip out of it.
If you plan to go to the Valentine's Day Cup, be sure to book your ferry tickets and rental car ahead of time. And then you're all set. Get ready for a beautiful day on Bambarra Beach—and a little taste of Turks and Caicos culture, as you witness firsthand what makes this local tradition so special.
photos: Dominique Rolle/Caya Hico Media