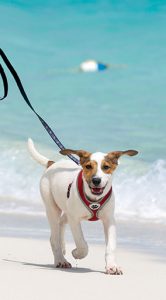 Puppy paw prints scatter over the pristine sand of Grace Bay beach. These belong to a Potcake on a Puppy Socialization Walk.  This puppy was lifted from the bushes of Providenciales and propped on the step of The Potcake Place K9 Rescue, a charity with the aim of increasing the chances of finding every Potcake a loving home.
The rescue charity's adoption center is located at the Saltmills Plaza, a five-minute walk from Grace Bay beach. Each morning, the puppies wait – as patiently as they can – hoping to go to the beach with your family or friends. Socialization Walks allow puppies from The Potcake Place to become accustomed to being handled by new people and bumping into other dogs along the way. Like most people, the puppies get bored staying inside all-day and appreciate when lovely people take them out for some exercise. Their temperaments benefit greatly, says Potcake Place Founder and Director Jane Parker-Rauw.
When Parker-Rauw began allowing puppies out for walks, she saw a night-and-day difference in their behavior. The idea of letting responsible people walk the Potcakes stuck. Today, people queue up for the chance to help socialize the puppies aged between 9 and 14 weeks.  The Potcake Place ensures that they put the dogs in safe hands for the beach walks, with strict rules to be followed. "These walks are not for excursions, they are for the benefit of the Potcakes and only for the benefit of the Potcakes," stresses Parker-Rauw. An opportunity for a little adventure and exercise – also for yourself. The Potcake Place volunteers use the feedback they receive from the walks to learn how each dog uniquely interacts with people and other dogs.
Puppy Socialization Walks happen in the cooler hours of the morning. Generally, the dogs go to the beach or sit outside supporting restaurants. They are sent with a bag containing a bowl, water, treats, toys, a leash, and collection bags: everything they will need for their adventure.
The walks are also a great way for the shelter to raise awareness about what they do. Since it started twelve years ago, thousands of puppies have been placed in loving homes. Stop by on your next visit to find out how you can help. The non-profit organization relies on volunteers to keep the rescue shelter running and is completely funded by donations. They appreciate items such as old towels, blankets and more. Dog Toys are always welcome!
While the dogs wait for their rightful, forever family, they need all the love they can get. Maybe the next playful Potcake puppy you see outside at the beach will be there with you.